Child Development Center
(907) 487-5481
Child Development Center Mission Statement
We support Team Kodiak missions by providing quality center-based care for your children. The trained, professional staff of the CDC develop a foundation for life long learning by providing a nurturing, safe and healthy environment for children to grow as individuals.
The Child Development Center (CDC) programs provide an atmosphere with varied experiences that promote the growth of cognitive, physical, social, and emotional needs of each child. We provide opportunities for learning in small and large groups, and interactions with positive adult role models. We encourage self-help skills and activities at the child's level to promote independence and growth
Hours of Operation:
Monday - Friday: 7:00 AM – 5:00 PM
Located on the Base next to the Chapel
Full day childcare programs Accredited by National Association for the Education of Young Children
Infant Room: Children 6 weeks through 18 months
Toddler/Pre-Toddler Room: Children 18 months to 33 months
Preschool Room: Children 33 months to 48 months
Pre-K Room: Children 48 months to entrance in Kindergarten
After School: Children Kindergarten to 4th grade
Part Day Preschool: Children 3-5 years old
USDA Food Program: Breakfast, lunch, and a nutritious snack proivded and served every day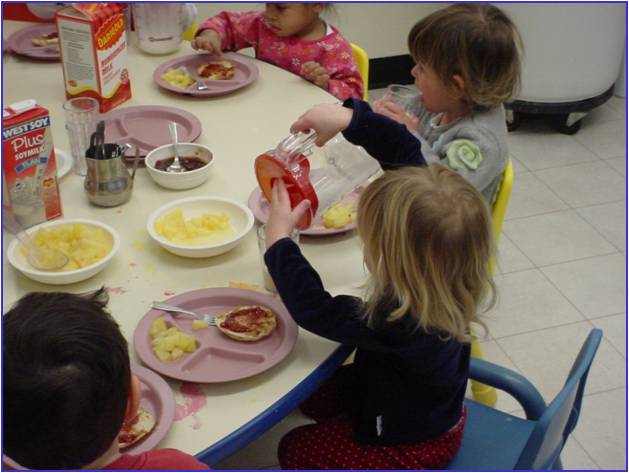 This is a USDA Food Program: In accordance with Federal Law and U.S. Department of Agriculture policy, this institution is prohibited from discrimination on the basis of race, color, national origin, sex, age, or disability. Kodiak Child Development Center and the USDA are equal opportunity providers.
Calendar and Registration Forms:
For more information, please contact the Child Development Center at 487-5481